October 2011
Story Window!
Guess the story depicted in our store window
and enter our drawing to win one of three $15.00 Giftcards!
THERE IS CURRENTLY NO STORY DEPICTED IN OUR WINDOWS.
WE WILL KEEP YOU INFORMED OF OUR NEXT CONTEST.
We enjoy this so much! In the past we depicted: "The Bremen Town Musicians", "Goldilocks and the Three Bears", "Rumpelstiltskin", "The Princess and the Pea", "The Frog Prince (or The Frog King)" and a favorite childhood poem
"The Land of Counterpane", by Robert Louis Stevenson.

February 2010 WINNERS:
Sam Foglio from Shapleigh
Katharine Chaiklin from Porter
Steve Hay from South Berwick
(The story was "Little Red Riding Hood")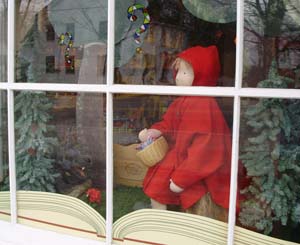 © 2010 At Once All Agog - (207) 793-AGOG(2464) - 24A Main St Limerick, ME 04048
Store Hours: Wednesday-Saturday 10-6PM Sundays 11-4PM
Closed Thanksgiving and Christmas
Join Us on Facebook to get latest updates!
Check out: Clipper Merchant Tea House - Limerick - Jeremiah Mason House

Home - E-mail Us - Find Us - Contact Us